Tango into the New Year
Explore with us our Urban Boots Collection in Cordovan, the perfect ally for the cold winter days. Style and comfort to tango your way into the new year.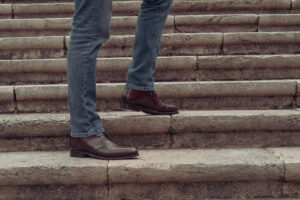 The year of 2020 has been like no other, and it looks like it is set to carry on a little longer into the new year. In the meantime, don't let yourself get down, pour a drink, dress up, put on your dancing boots, turn up the music and let's tango our way into this new year ! There's nothing like a few dance step to clear your mind and light up your mood.
Footwear wise we can't exactly suggest any tango specific shoes, but what we do have is a collection of comfortable and stylish urban boots that you can just as well groove in. Classically elegant boots for your home alone dance parties, city strolls or country side escapades.
The colder days and wet pavements call for warmth and comfort and our Palermo Chukka Boot in Cordovan Leather will provide just that.
Cordovan is probably the material that is the best adapted to the cold and humidity. The thickness of the leather insulates your feet from the cold and tightness of its pores make this noble material highly waterproof. Our Cordovan Boots are made to order, which means you get the luxury of choice. You can choose between a vibram rubber sole and bark tanned leather sole. It all depends on the use you wish to have for your boots. Vibram rubber soles are good all rounders, the dotted surface will give you extra grip on more slippery terrains and is well adapted for country strolls. Bark tanned leather sole are more adapted for a more formal wardrobe.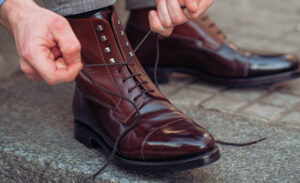 In our cordovan boots collection, we also have the Hurlingham in dark brown and black. Higher around the ankle then the Palermo, these derby boots will allow for higher and thicker socks for added warmth. This boot is designed to be sturdy and practical, inspired by the boots warned by the British armies during World War II. The Hurlingham's last and design is an all time favourite amongst our influencers.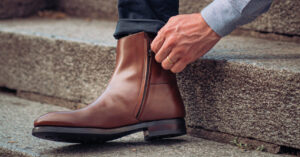 Another stylish boot for your new year's wardrobe would be our limited edition Areco. The Areco sports a unique design and a last that is inspired by our polo boot. The Areco, just like the Mendoza, slimmer on the forepart making it not as adapted for wider feet or higher insteps. Just like the cordovan collection, the Areco is made to order, therefore you can also choose between the bark tanned leather soles sand the vibram rubber soles.
Whatever boots you chose to be your companion this new year, you can't go wrong with our urban boots collection.