How to care for your suede shoes
At Casa Fagliano, we believe high quality shoes deserve high quality care, specially around winter. A how to guide, catered for you and your suede shoes.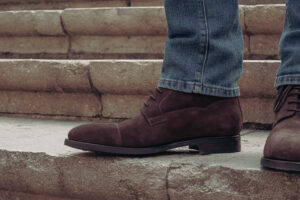 We know how hard it is to look stylish during those cold winter days, with your knits and coat layered on top of one another, the runny red nose and your hat screwed on tight right above your eyes. A great way to spice up your snowman look is with a pair of suede boots, it keeps your feet warm and adds texture to your outfit.
Many will shy away from suede, afraid the winter's harsh elements will ruin a nice pair of footwear, but it's actually a tougher material then you would think. Suede can absolutely be worn during the winter months. Opt for something like the Puerto Madero or the Hurlingham with its vibram rubber soles. With the proper care and preparation, there is a way to keeping your suede boots looking their best.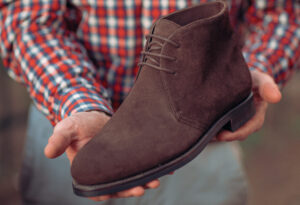 1.
Firstly, brush of the dust anddirt from your boots in preparation for the cleaning and protecting. Use a stiff brush and brush in a sweeping motion. Do not press hard and maintain the same direction to keep the nap uniform. Note that the boots should be dry for this process.
If you're dealing with more persistent stains ( wine, oil… ), you might want
to use a suede shampoo. Follow the instructions and leave to dry naturally.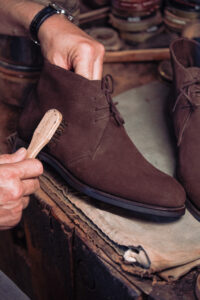 2.
Next, use a suede brush (a rubbersuede brush or wire brush) to bring the nap back to life. Once you have brushed the boots uniformly you might find that a few loose fibres are standing out. Use a lighter to remove them. Carefully, make sure not to hold the flame to close or for to long, or you risk of burning the suede.
Tip: Another way to revive your suede boots. Place the bootback and forth over the steam from a kettle/boiler. It adds moister back into the leather whilst cleaning it as well. Then brush the hairs with a suede brush.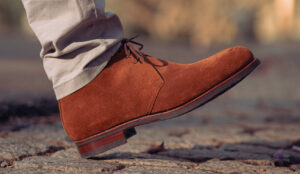 3.
Finally, apply a "suede protector" spray. The preemptive spray will help to repel water and keep a lot of the dirt and stains from sticking to your boots. Spray from a distance and then brush gently with the suede brush. Insert your wooden shoe trees and leave your boots out to dry naturally.
Tip: Do not be afraid to re-apply the suede protector spray every month or so. Every two weeks even if you wear your suede boots regularly. As the spray will wear off over time, especially if facing the elements.
FEATURED PRODUCTS